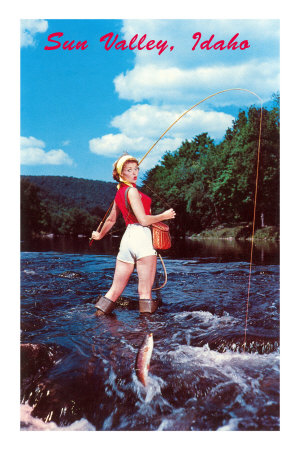 In regards to
le blog
, I can say with almost 100 percent certainty that there is nothing that pleases me more than seeing an email from a reader pop into my inbox. It might sound silly, but the sheer concept of people I don't know reading this site and taking time out of their day to send a note or ask for advice is still absolutely incredible to me. You should see my face when I read them. My eyebrows go sky-high, my smile reaches my ears and my hands go right to my heart. Seriously, I can't tell you how flattered I feel, how obsessed with you all I am, and how much it inspires me to keep coming up with different ways to refer to clothing items as my new boyfriends.
Moving right along, my most recent email comes from Robyn in Austin, Texas. Robyn is visiting my favorite little vacation spot, Sun Valley, Idaho in August, and wants a little styling advice. She correctly identified this resort town as a strange mix of the casual, the outdoorsy and the jet-set. Let's discuss, but first, per usual, a little visual:
Picture your vacation in Sun Valley like you are living in a Ralph Lauren commercial. It's American; it's casual luxury with a dash of cowboy cool. Think distressed denim, floral dresses, funky western boots, and nothing dressier than a wedge heel. Think silver and turquoise jewelry instead of gold. These are the kinds of touches to keep in mind when you get dressed to head to drinks on the roof at
The Roosevelt
, dinner at
The Pio
, or to shop at
Ketchum Dry Goods
.
The summer in Sun Valley is rather different than the winter. Ski season attracts a lot of people who are more about the
apres
, than the actual activity. In the warmer months, the majority of people are really there to get outside, get active and enjoy the nature that abounds from every valley and mountain. People come into town for an ice cold beer directly after a 10 mile hike to a secluded lake or towering summit. They soak in the late afternoon sun outside
Apples
after fly fishing for six hours straight. As much as the dress is casual, it's also just the attitude. The lifestyle is all about what I would call,
active leisure pursuits
. From river rafting to golf, horseback riding to tennis, Sun Valley is where the glamorous and the rugged seamlessly come together.
Robyn, please have an amazing time for me. It's going to be gorgeous and sunny and wonderful out there. I hope, at the very least you can pick some wildflowers, get caught in a mountain storm, go dancing at
Whiskey Jacques
, and ice skate at
The Sun Valley Lodge
.